So the 2012 Cannes Film Festival is going very smoothly with lots of stunning red carpet appearances and some heavy rains with few shocks, some booings and the good ol' standing ovations. I think its time to share what the buzz surrounds these entries for the prestigious prize and maybe their future.

Below is the full list of movies In Competition:

-Moonrise Kingdom
-Rust and Bone
-Holy Motors
-Cosmopolis
-The Paperboy
-Killing Them Softly
-Reality
-Love
-Lawless
-In Another Country
-The Taste of Money
-Like Someone in Love
-The Angels' Share
-In the Fog
-Beyond the Hills
-After the Battle
-Mud
-You Ain't Seen Nothin' Yet!
-Post Tenebras Lux
-On the Road
-Paradise: Love
-The Hunt

Below is the general buzz and my prediction for each of the movies.


1. Moonrise Kingdom:
Well this Wes Anderson movie already was a hot favorite not just to me but to everyone considering Anderson's previous movies. Now overall what critics were saying is that it does have the whole Anderson-y touch and look like his previous movies and his signature style but as far as the movie itself is concerned this teen fugitive romance movie is very funny, romantic, sweet and smooth. Lightweight, whimsical, charming and gets a lot of help from the lovely music. In short, nothing like his previous movies. It got wonderful reviews and nothing negative so it may as well be among the top contenders for the prize, i don't quiet see a movie like this winning the award even though it may have won hearts.

Palme d'Or Probability:

4.5

-5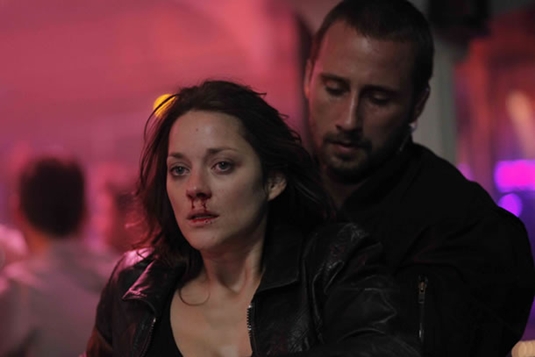 2. Rust and Bone:
A Prophet was a movie by Jacques Audiard that was very close to winning the Palme d'Or last time but didn't. This time overall critics don't think its a superior movie though still somewhat on the same track story wise, much of the attention grabbing aspect of the movie is Marion Cotillard who was considered a Best Actress winner the moment people saw the first look. It got a somewhat mixed reaction from some critics with people highly praising Cotillard so she is definitely up but movie, not quite much.

Palme d'Or Probability:

3.5

-5


3. Amour:
Michael Haneke's latest after Funny Games, Cache and Palme d'Or winning The White Ribbon is nothing like his last movies, no violence but surprisingly very tender story that really was impossible to believe by the audience that they are watching a Haneke movie. He is no stranger here, he and his movies have won something or the other in Cannes but his latest movie Amour got the most amazing reaction that no one else in the competition so far have even come closed to. Many people said that they didn't saw a dried eye after the movie finished and that the experience changed them and got them to think for people they love or lost in their lives. They say the movie is tender, terrifying, uncompromising and pure brilliance. This story about an elderly couple is what may actually win the prize. Also the actress starring might be up there alongside Cotillard as she is being working for a very long time and did some great movies.

Palme d'Or Probability:

5

-5


4. Holy Motors:
This is a movie i knew nothing about until i found out that it stars Eva Mendes and Kylie Minogue, a French movie directed by Leos Carax got the most lengthiest response so far. Most of the critics were like the wackiest movie they saw in Cannes or their first reaction was either WTF or What the hell did we just saw? As much weird the movies is with a synopsis that suggests too much surreal, Lynch-like premise with some parallel life realities or something, the strong reaction that got and the different filmmaking that it is may easily garner it the trophy. Some critics did felt not much sure about it but most of them loved it calling it awkward, weird, insane, beautiful, brave, hilarious and disgusting praising the storytelling rules bending thing it did.

Palme d'Or Probability:

5

-5


5. The Angels' Share:
Ken Loach is a festival favorite with his movie The Wind that Shakes the Barley winning Palme d'Or a few years before is back with a comedy. Comedies usually doesn't do well in festivals but this is a movie that got a good early response. A bit bittersweet movie set in a working class Glasgow is said to be very entertaining and never too cynical. For whatever message it is said to convey, the way movie goes is really in a way it never look cynical or things thrown at you but with proper narrative and character development with good storytelling with a movie really worth the experience.

Palme d'Or Probability:

4

-5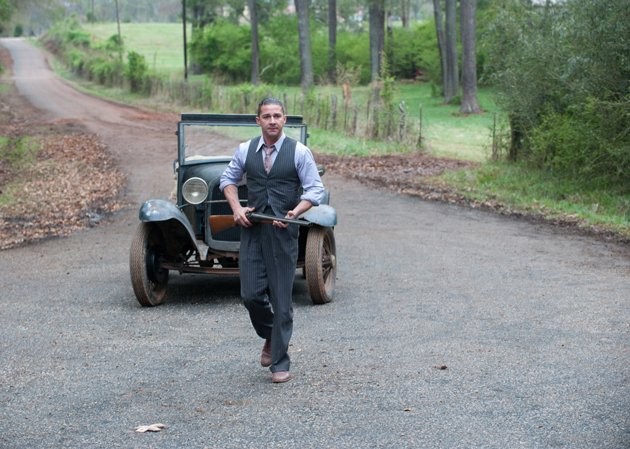 6. Lawless:
John Hillcoat directed movies like The Road and The Proposition return with a star studded cast with big names. Movie already received the early Oscar Buzz with some critics thinking it might be a presence in the next year ceremony but most of them thinks it lacks the punch or gravity that his previous movies had even though the period piece setting and action is good, story seems to be a bit thinner than other movies that have been played there.

Palme d'Or Probability:

2.5

-5


7. Killing them Softly:
Andrew Dominik is back after his much loved The Assassination of Jesse James starring Brad Pitt once again. This movie while already receiving buzz got high praise with critics praising the style of the movie, the narrative and brutality while others seems to be questioning the heavy political theme running throughout. Nevertheless it is one of the better movies that are being played in Cannes.

Palme d'Or Probability:

4

-5


8. On the Road:
I haven't read the iconic Jack Kerouac's novel this movie is based on, it has a massive following but most of people earlier suggested that it is unfilmable which seems to be kind of proving right. On the Road received negative reviews mostly with very little praise. Some critics are praising the performances while others seems to be disappointed, some of them loved the full of life nature while others found nothing lifelike in the characters but the scenery. So its overall quiet a mixed reaction but considering director Walter Salles, his movies like Motorcycle Diaries and Central Station got high praise here, he might still pull something off even though i don't think its happening at all.

Palme d'Or Probability:

2.5

-5


9. After the Battle:
This movie from Egypt got literally the worst response of every other movie in the competition so far. Critics are saying that the movie uses heavy political story but does nothing significant with it, too loud and preachy that just sinks calling the screenplay awful.

Palme d'Or Probability:

1

-5


10. Paradise: Love:
Ulrich Seidl's film about Austrian woman going to Kenya for Sex received negative to mixed reviews with overall talk being how it takes subject like this and never actually does anything or goes anywhere with it during 2 hours. In short it disappoints.

Palme d'Or Probability:

1.5

-5


11. Like Someone in Love:
Abbas Kiarostami's latest movie after one of my favorites Certified Copy isn't completely a critical failure but it has disappointed a few critics. I loved his previous movie and the performance by Binoche but his latest effort from the look didn't brought any sort of great feelings in me. They say it ends in a way that just baffles the viewers and in a very sharp way that leaves people wondering if they might be getting a sequel for it so i guess it is nothing like Certified Copy. Some critics also said its sleep depriving and one might need to be in a specific mood to actually watch this movie.

Palme d'Or Probability:

2.5

-5


12. Beyond the Hills:
Cristian Mungiu's 4 Months, 3 Weeks and 2 Days back in 2007 won the Palme d'Or but maybe not this time since the reviews it got are very mixed. This Romanian religious piece is said to loose focus, very slow paced, creepy and chilly even though it is well intentioned.

Palme d'Or Probability:

2.5

-5


13. You Ain't Seen Nothin' Yet:
This movie is made by a 90 year old director Alain Resnais who made some iconic movies. His latest effort is somewhat of a well intentioned disappointment to an average movie that is not for everyone to watch. The narrative style and story seems to trouble some viewers too.

Palme d'Or Probability:

3.5

-5


14. Reality:
Matteo Garrone's previous movie Gomorrah earned some high praise and this time its no less. The reaction to his latest might not be very wild or glowing like his last, but still some found good well intentioned and insightful things in this reality shows satire but others weren't very impressed. But still overall they liked it.

Palme d'Or Probability:

3

-5


15. In Another Country:
This movie by Korean director Hong Sangsoo is something i don't know much about but he is somewhat of a good presence here and the actress Isabelle Huppert is a favorite too. It got decent response and very few of them were not impressed.

Palme d'Or Probability:

4

-5


16. The Hunt:
This Danish movie by the famous Thomas Vinterberg got some audience into shocks, in a good way for the different storytelling with many praises. Much of them loved Mads Mikkelsen's performance that might give him the Best Actor trophy.

Palme d'Or Probability:

4.5

-5
17. The Paperboy:
Director Lee Daniels returns after his award winning movie Precious with The Paperboy. The reaction i have seen for this movie is very mixed with some people calling it a camp classic and the others calling a complete trash. So its a fine thin line there is in the movie, there some infamous Kidman-Efron scene that was the subject of every tweet and reviews that i read. But yeah the movie is very kinky, sexy, steamy southern thriller with some good performance from Nicole Kidman. The movie is said to be uneven, flawed screenplay and is over stylized excess visual gimmickry.
Palme d'Or Probability:

1.5

-5
18. Cosmopolis:
Cosmopolis is a movie i was very divided forward to because the first look suggested Director David Cronenberg's return to wild and weird stylized movies. The reaction that it got is literally mixed with some pointing out the fact that Cronenberg relying too much on the book while bringing nothing of his own, the stylized rapid fire bookish dialogue with lots of talks makes it hollow and agonizing. Others loved the performance by Robert Pattinson as this rich, self centered and controlling young person. This might become a cult favorite, which it will.
Palme d'Or Probability:

2.5

-5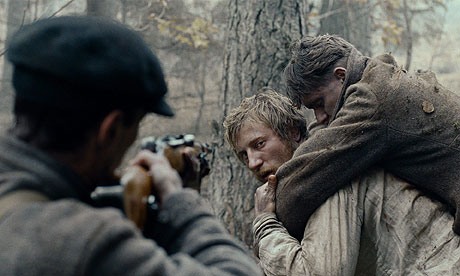 19. In the Fog:
In the Fog got some enthusiastic response with some saying it is a strong contender for the big prize. Critics think its very slow moving, slow burning and perhaps the most slow moving World War II movie ever but then its very intense, carefully created, wonderful character study and a complex, compelling and haunting drama.
Palme d'Or Probability:

4.5

-5
20. Post Tenebras Lux:
Response for this movie is worst than After the Battle which previously got bad reviews. Critics literally hated this movie, this is a downright experimental effort that seems to be in trouble finding its place. Critics say the overall effect is just illogical, trashy, dumb and just nothing. The narration jumps backward and forward in a way that never makes sense. The style of the movie is weird and dull.
Palme d'Or Probability:

0.5

-5
22. Mud:
Many tweets by people and reviews by critics suggested that Cannes film festival ended with a very high and good note with Mud, the latest movie by Jeff Nicholas following his widely praised and my favorite Take Shelter which took some prizes from here. It is said to be a perfection as far as American Independent movies goes, some called a American Independent Masterpiece and a perfect portrayal and depiction of Americana. It is said to be a bit dramatic, more melodramatic than it looks at first with good performances. Said to be quite atmospheric and richly crafted coming of age story.
Palme d'Or Probability:
4.5
-5
23. The Taste of Money:
So the follow up to The Housemaid which to me was a very flawed overdone and schmaltzy erotic thriller by Im Sang-soo isn't getting much praise either and by the 2 reviews i read, both of them rejected it completely. Heavy on style, interior decoration, so called dumb rich people, poorly developed and executed character, uneven plot and just a glorified Korean soap opera. It isn't a major contender at all so count it out completely.
Palme d'Or Probability:
0.5
-5
.................................................................................................
MY FINAL PREDICTIONS:
Palme D'Or:

Amour

,

Holy Motors

or

In the Fog

.
Direction:

Leos Carax

,

Michael Haneke

or

Thomas Vinterberg

.
Actor:

Mads Mikkelsen

or

Jean-Louis Trintignant

.
Actress:

Emmanuelle Riva

or

Marion Cotillard

.
Grand Prix:

In the Fog

,

Amour

,

The Hunt

,

Mud

or

The Angels' Share

.
Screenplay:

Moonrise Kingdom

,

Holy Motors

or

Amour

.
Special Jury Prize:

Mud

,

In the Fog

,

Holy Motors

,

Amour

or

Moonrise Kingdom

.