Awards season and particularly Oscars Season is really fascinating if not very accurate when it comes to giving awards to the very deserving movies and actors. But still i find myself waiting and anticipating them and here in this case, predicting them. This year's Academy Awards left me in a state of shock for nominating movies that didn't deserved to be called as the 9 best movies Hollywood made last year. Nor were a few actors deserving enough to actually get nominated over much more brilliant performances but Academy always had this very annoying habit of honoring actors and movies that aren't actually based on how great a movie was, talk about politics.

Enough with my Oscar Rants, well we had Cannes Film Festival happening with no real Hollywood contender that surfaced as a potential nominee. Except for the Opening Film this year, Moonrise Kingdom which got the best reviews of the year so far. So Moonrise Kingdom is our very first contender, not sure but i would want a Wes Anderson movie to be among the 10 Best Film nominees but overall the buzz and reviews points out towards the fact that it maybe one of his best movies and that people who aren't particularly fan of his work or style are liking it too. Best Picture is a possibility and as you all know it might this year's Midnight in Paris. I doubt a director nod but then it can get a Screenplay nod, Art Direction, Original Score, Cinematography maybe. I haven't seen it so can't really tell about the actors, not sure if child actors can make the cut since the buzz suggest another young actress to be a likely nominee. Bill Murray and Bruce Willis may likely be the actors from this movie that might deserve to be recognized for their work in Moonrise Kingdom according to many people.

The Next movie that comes to my mind is definitely Beasts of the Southern Wild. This indie movie got a great reception at Sundance Film Festival and also Cannes where it won awards. The young actress - is being called as "a force of nature", she is up there for Best Actress nomination. No matter how unlikely that sounds for an actress of her age to get nominated but we still shouldn't put her out of the list. Supporting actor _ is being also considered and for the movie itself, it might actually get nominated. There is always one or two spots left for Indie movies or the critics/festival favorites like last year it was Tree of Life only since the other movies even though being from festival circuit got through because of either their subject matter (The Artist, The Help) or because of a beloved director (The Descendants, War Horse) etc. Beasts might also get for Screenplay, Cinematography and Original Score. These two movies so far are the most likely nominees for Best Picture, just two! Last year during this time we had much more in number. So is it a very weak year? it might be but just not yet since there are some really mouth watering movies coming soon and we will know it for sure once the festivals like Toronto, Venice and Telluride takes place. The former two have already revealed their lineup and Toronto this time have got an almost shock inducing amount of numerous (well almost all) highly contenders of the year.
On the Technical front, The Avengers, The Dark Knight Rises, Prometheus, The Amazing Spider-Man (maybe) etc are there. The Avengers even though being called the best Superhero movie ever and the kind of a big blockbuster and highly generic movie that it looks might not actually make it in the Best Picture. The same goes for The Dark Knight Rises actually, which is unfortunate because i watched the movie and i don't think its a great work by Christopher Nolan. Both movies are going to be nominated for Visual Effects and Sound categories. The Dark Knight Rises may get for Original Score and also Editing though acting nominations (for either Hathaway and Cane) is unlikely to happen. Prometheus and Spider-Man also are there for Visual Effects and Sound categories, Men in Black 3 may also snatch a Makeup nod maybe.
On the animation front, this is even worst year than the last. Rango according to me was a highly original take and i loved it for what it was but i don't think we are going to get a great movie this year. Brave which i haven't seen have got good reviews if not very great for a Pixar movie but it is a must when it comes to the Animation category. I hope the Stop Motion/Clay Motion or whatever technical term you might use for both ParaNorman and Frankenweenie gets through and the have to be good since i am looking forward to them. Also the latest teen obsession, The Hunger Games which i though was moderately good and over hyped may or may not get nominated for Art Direction, Makeup and Hair and Visual Effects. People have also been buzzing about The Best Exotic Marigold Hotel, the two actresses Judi Dench and Maggie Smith are said to be among the highly contenders for the nominations which i doubt. Mirror Mirror can be considered for Best Costumes, they look stunning.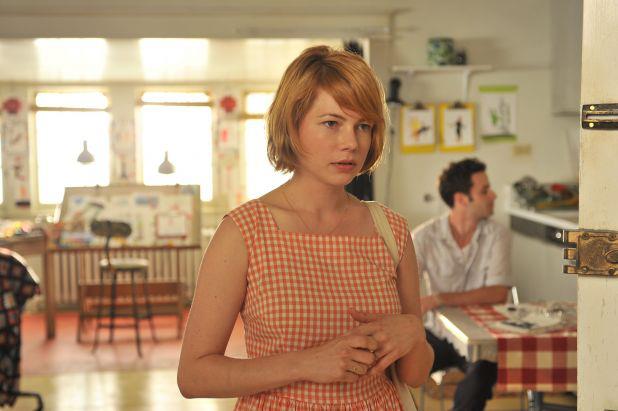 From what i have seen, Take this Waltz is a good movie with a great performance by Michelle Williams and on the other hand we have The Deep Blue Sea which is a highly ambitious experimental indie movie featuring a great performance by Rachel Weisz. I hope for a few technical nods for Chronicle which i though was a very good movie. From the Foreign front i have really loved both Oslo, August 31st and Elena but they might not get nominated.

For Your Consideration:

- Take this Waltz
- The Deep Blue Sea
- Chronicle
- Oslo, August 31st
- Elena