Cast:
Ranbir Kapoor, Nargis Fakhri, Shammi Kapoor, Moufid Aziz, Aditi Rao Hydari, Kumud Mishra, Piyush Mishra, Shernaz Patel, Jaideep Ahlawat and Shreya Narayan.

Director:
Imtiaz Ali.


Review:
Rockstar is a movie by Imtiaz Ali, better known for his really fresh and different take on romantic stories. The enormous buzz surrounding the movie, specially its star Ranbir Kapoor and the fact that he won every Best Lead Actor Award in Indian Awards shows really led me to watch it, or else i wont have just like i don't watch much Bollywood movies anymore. Rockstar is a very big movie in scale and everything, happy for Imtiaz but this isn't one of his best. Rockstar tells story of JJ (Janardhan Jakhar) or Jordan played superbly by Ranbir Kapoor and his dream of becoming a rock star, his inner emotional changes and becoming this damaged soul with a broken heart as he falls in love with a girl Heer played by Nargis Fakhri. Movie starts off with a scene where we see Jordan is a big rock star, he is very famous and loved by his fan. He has a brawl with some thugs in Italy while he is making his way to the concert he was going to do in arena. When he reaches, we see Jordan as this big arrogant and angry man with no respect or anything for his fans. Most of the movie then happens in flashbacks of various turns o Jordan's life and the narration goes in a very haphazard and non linear way. Jordan studying in College and his dream of becoming a big rock star and every one around him laughing at him, he meets Heer and decides to propose her and the humiliation/heartbreak he'll suffer will make him a great rockstar like his idols. But they become good friends, they do silly stuff together like drinking Desi liquor, watching soft porn movies or teasing people. Heer is going to get married and move to Prague so she wants to have as much has she can have before getting married.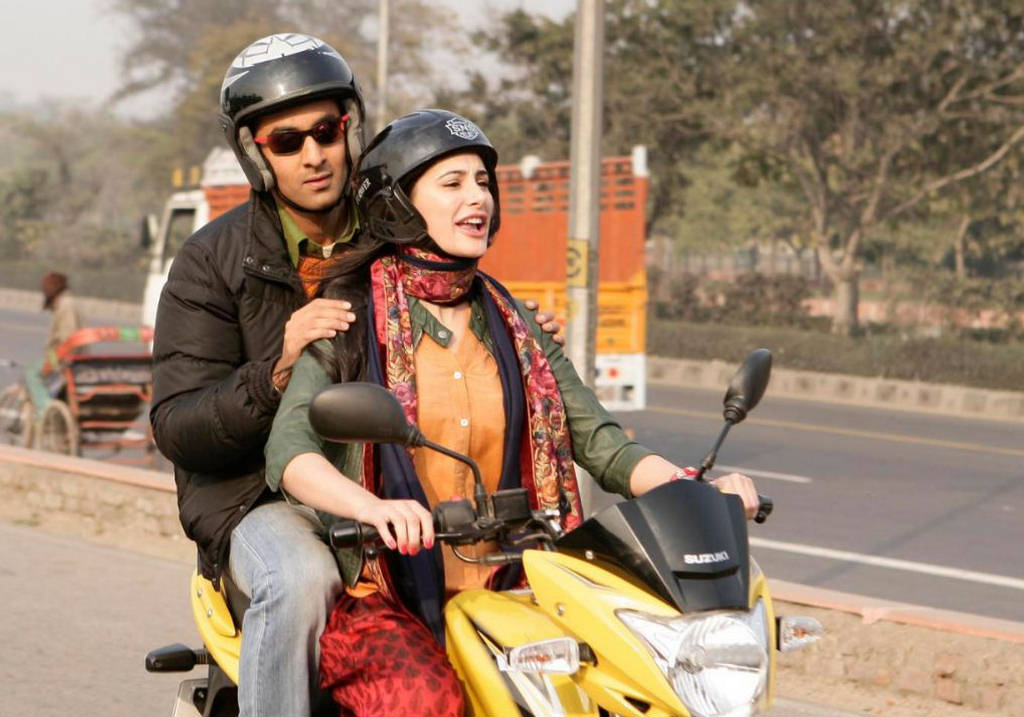 We then see a different side of the silly Jordan, the mature one as he goes through that phase in his life where he is thrown out of his home by his angry elder brother. He finds refuge at a Dargah singing qawwalis and every thing, then to a local temple where he sings bhajans. Ustad Jameel Khan played by Mr Shammi Kapoor in his last film appearance before his death is a very famous classical artist who knows JJ from Dargah, makes Dhingra played by Piyush Mishra who is an owner of a music company to sign him. Heer and JJ gets reunited in Prague as JJ is sent there by his recording company, that is where they real journey begins for JJ. The heartbreak he suffers when Heer rejects him after a brief intimacy period that they have, she is married and doesn't want to see him again. Things changes as he comes back to India, his mind seems to be on Heer all the time and is constantly angry and doesn't much concentrate on work. His popularity rises, he is performing every where and his records sells at a rapid speed. During a performance, he receives news of Heer's health by her sister as she is being diagnosed by a disease.

Rockstar is a flawed and sometimes messy film that tells the story of the lead character in a very disjointed way that is often not easily digestible. Ranbir Kapoor is a very talented actor, for a newcomer to give such mature performances from the very start of their career is very appreciable. Ranbir Kapoor is the heart of this movie, he is the best things about this movie. On the other hand, the music of this movie may be described as the soul of the movie. A R Rahman once again did a fantastic job composing songs that easily makes JJ a rock star as well as a boy with a broken heart. "Sadda Haq" is the song that is being termed as the Youth Anthem, it is this very rebellious and youth centered song that was the reason that the movie attracted such an audience. For me the best songs of Rockstar are "Nadaan Parinday" and "Tum Ho" which as you people may know are mellow songs and they actually touches you very much. Nargis Fakhri as the love interest is well disappointing. I mean first her voice is dubbed by someone else as she speaks Hindi with an accent, one of my problems with Bollywood is their trend of adding foreign actresses. She looks good with Ranbir and they make a good pair, she is somewhat convincing in a few parts but overall, in a movie like this, she just doesn't fits. I liked their romance, its very strong and highly passionate. They do crazy, mad things together and the whole feel of the movie with this earthy dialogues and very straightforward way of talking makes it unique.

The cinematography is very good, it has some of the best shots and makes use of the great scenery and locations like Prague and specially Kashmir. Editing is far from perfect and as i said earlier, so is the screenplay. Their is that honesty to it in some way that makes it a superior movie from other films even though with all these flaws. The ending of the movie as corny as it is will drive you to tears.



Grade: B-